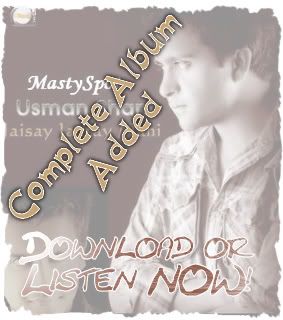 Exclusive Release For MastySpot Members:
Now you can all download Usman Shani's superb album, "Jaise Jante Nahin" - it has been added into main Music Library of MastySpot. Visit the library to download all tracks. This album features 12 tracks - upbeat and some nice slow tracks mixed in one album. The album also contains a duet, a national song, with Mazhar Rahi, which is half in punjabi, and half in Urdu.
Click here to download.
The track listing is as follows:
Dil Mera Tu (Dil Mera Too)
Haath Se Haath
Hath Se Hath (Remix)
Jaisay Jaante Naheen
Jar (Tethon Jar Nahin Hona)
Kangan (Kaash Main Tere)
More Nain (Mohre Nain)
Nazren Mila Ke (Nazre Mila Kay)
Pakistani (w. Mazhar Rahi)
Raaste (Raastay)
Rabba
Rubaru (Ruba Ru)
All tracks are available for download in the Music Library -
click here to download now
or visit our music library link at this address: http://www.mastymusic.co.nr