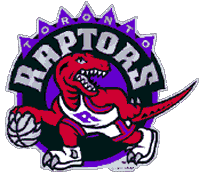 Congrats to all Raptors' fans. Victory at last!
Below is an article from The Toronto Star:
Raptors 103, Knicks 100




NEW YORK – These are indeed heady times for the Raptors, who have been winning more than they've been losing of late and looking good in the process; making amends for a difficult start to the NBA season.

They marched off the Madison Square Garden floor last night feeling proud of themselves, having vanquished the New York Knicks 103-100 in a game that won't go down as one of the greatest defensive battles of the season but one that was entertaining and confidence-boosting for the beleagured Toronto team.

Despite a dominant late-game performance by New York's Eddy Curry, who scored 13 straight points for his team, the Raptors hung on as T.J. Ford made four clutch free throws and a huge basket in the final 90 seconds.

Those were six of Ford's 20 points as the Knick guards couldn't match his quickness at any point. Chris Bosh had 21 points in the first half and finished with 28 while Jorge Garbajosa had just eight points but grabbed a huge offensive rebound in the final 30 seconds.

Curry had 27 for the Knicks. Toronto has now won four of five and two straight and is 7-10 on the season, in sole possession of second place in the Atlantic Division.

The last time they won on back-to-back nights was last Feb. 12-13 when they beat Portland in Toronto and won the next night at Minnesota and they didn't get their seventh win last year until the 29th game of the season, when they beat Atlanta to go 7-22.

The starting lineup change – Rasho Nesterovic in and Joey Graham out – was made simply to save Bosh the wear and tear of having to battle Eddy Curry in the low post.

Curry's listed at 6-11, 285 pounds and Bosh is 6-10, 230; that 55 official pounds difference is likely substantially more in reality.

"The guy out-weighs Chris by twice as much and I just think it would be too much to ask Chris to do it for 38 minutes," Raptor coach Sam Mitchell said before the game. "That's what we got Rasho for, nights like this; it wouldn't be very smart if we didn't use him."

But instead of replacing Garbajosa, Mitchell took Joey Graham out of the starting lineup one night after putting him.

Nesterovic scored four of Toronto's first 13 points and drew a quick foul on Curry but the Raptor centre got two personals himself in the first four minutes and had to come out of the game. That forced Mitchell to go with a frontcourt of Bosh, Garbajosa and Andrea Bargnani which represents Toronto's biggest possible lineup.

"The guys play well together," Mitchell said of the threesome. "Garbo can play multiple positions, Chris can step outside and do some things and with Andrea out there, he can shoot and stretch the defence a little bit. It gives us the flexibility."

What makes that trio work is the fact Garbajosa can guard small forwards, something that's been a rather pleasant surprise for the Raptors. He's not quick, nor a great leaper but he knows how to keep guys in front of him and handle his man.

"Chris and Andrea can also switch out on guys and with the rules and such and the way you're playing, you really can't (isolate) a guy," said Mitchell. "We feel like for the most part we can do a decent job getting to shooters."

Not early last night, they couldn't.

Despite knowing that New York's Quentin Richardson was shooting 43 per cent from three-point range going into the game, they inexplicably left him open enough times that he made four from long range in the first quarter alone.

The Knicks made six three-pointers in a run-and-gun first half that allowed them to stay close as the Raptors led 64-60 at the break. Toronto shot 50 per cent in the half – Bosh had 21 points in 19 first half minutes – as the Raptors matched their biggest one-half offensive output of the season.

Bargnani, meanwhile, drew raves from Knicks coach Isiah Thomas before the game – to a point.

Thomas lauded the rookie's shooting and ball-handling abilities ("he's a perfect choice for them because he can stretch the defence," Thomas said) but he wouldn't go for any comparisons.

"I don't think he'll be the (Dirk) Nowitzki kind of player but he'll be a big guy who can play out on the perimeter,: said Thomas. "Those guys come every 30, 40 years and it's very rare you see two in the same league at the same time. There was one (Larry) Bird and there's one Nowitzki.

"There was Bird and then Dirk came and it took a long time before Dirk came. There were a lot of Larry Bird comparisons but Dirk is the only one you can really legitimately have a discussion with.